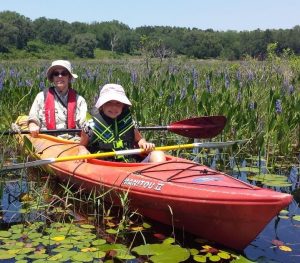 "The Many Faces and Plants of Lake Jackson" with Nia Wellendorf' on Thursday April 6th in Room 1024 in the King Life Sciences Building on the FSU Campus.
On Saturday, April 8, Nia and Shane Wellendorf will lead a paddle trip jointly hosted by the Magnolia Chapter of the Florida Native Plant Society and Tall Timbers Research Station & Land Conservancy from 9 AM to noon, and discover the peace, plants, and wildlife along Lake Jackson's north shore.
Bring your own kayak/canoe or contact us to rent one. Tally Yakkers Outfitters is generously supporting this trip with free boat delivery to Miller Landing and a discounted rate of $20 per kayak or paddleboard. To reserve a boat, please call or e-mail Brian Wiebler at brian@ttrs.org or 850.363.1079.
Meet at 8:30 AM at the Miller Landing boat ramp (go to the end of Miller Landing Rd, off North Meridian Rd). The float will begin at 9 AM and finish by noon. No restrooms are available at this small boat ramp. Don't forget the all-important sun protection and water.